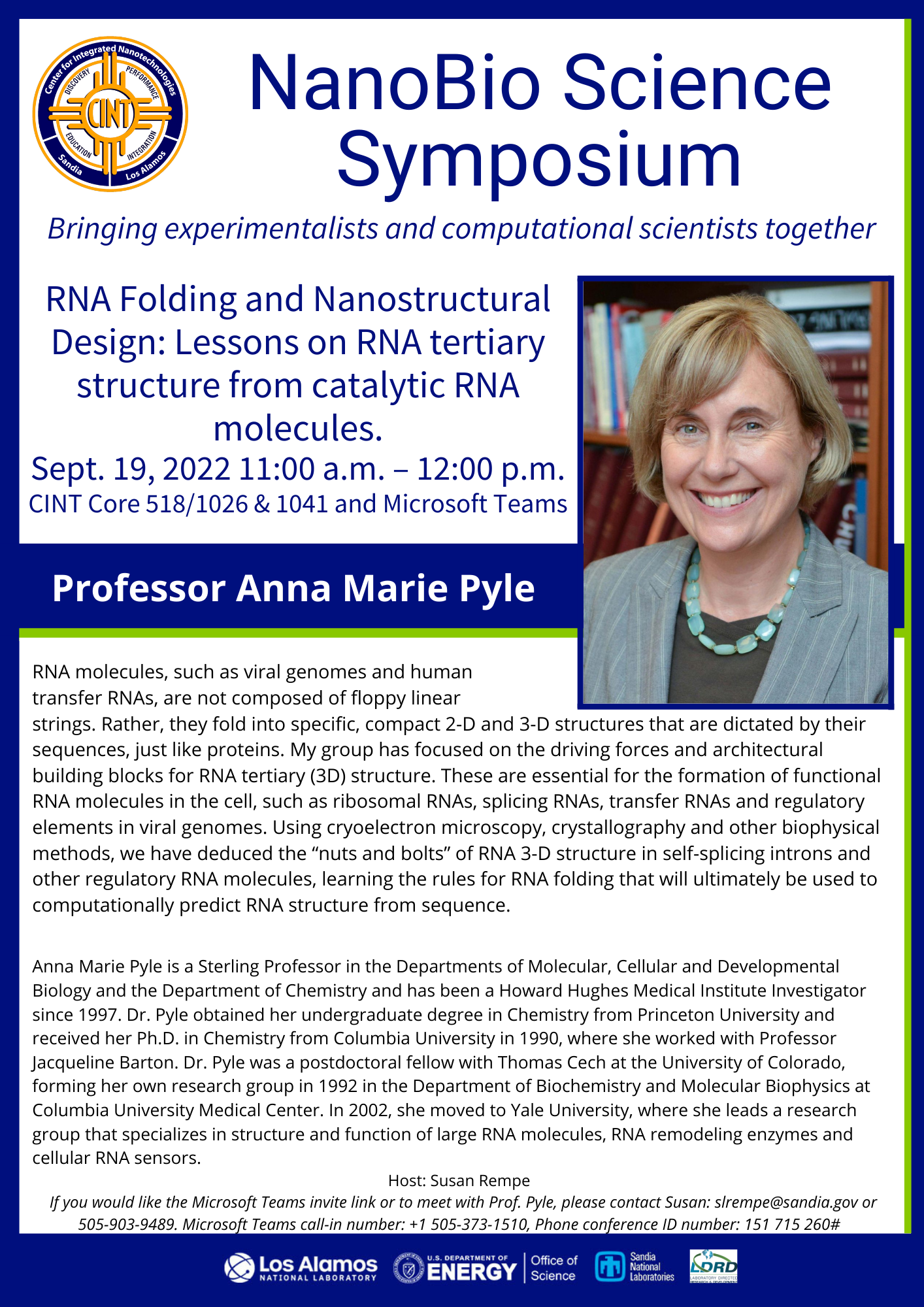 NanoBio Science Symposium — Sept. 19, 2022,  11:00 a.m. - 12:00 p.m.
Bringing experimentalists and computaional scientists together
Center for Integrated Nanotechologies, Sandia National Laboratories
Albuquerque, NM
CINT Core Rooms 518/1026 & 1041
Virtual: Microsoft Teams
Call in number: +1 505-373-1510
Meeting ID number: 151 715 260#


Join Professor Anna Marie Pyle for her talk — RNA Folding and Nanostructural Design: 
Lessons on RNA Tertiary Structure from Catalytic RNA Molecules
Abstract: RNA molecules, such as viral genomes and human transfer RNAs, are not composed of floppy linear strings.  Rather, they fold into specific, compact 2-D and 3-D structures that are dictated by their sequences, just like proteins.  My group has focused on the driving forces and architectural building blocks for RNA tertiary (3D) structure.  These are essential for the formation of functional RNA molecules in the cell, such as ribosomal RNAs, splicing RNAs, transfer RNAs and regulatory elements in viral genomes.  Using cryoelectron microscopy, crystallography and other biophysical methods, we have deduced the "nuts and bolts" of RNA 3-D structure in self-splicing introns and other regulatory RNA molecules, learning the rules for RNA folding that will ultimately be used to computationally predict RNA structure from sequence.
Host: Susan Rempe — If you would like to meet with Prof. Pyle, please contact Susan at slrempe@sandia.gov or 505-903-9489.
---
1st International Cryo-EM (ICE) Workshop for Advanced Materials — August 22-25, 2022
Registration for this event is now closed. Please join us next year for the 2023 ICE Workshop.
Center for Integrated Nanotechnologies Core Facility, Albuquerque, NM
Explore the increasing role of cryogenic electron microscopy (cryo-EM) techniques in materials science, and demonstrate innovative workflows to scientists, postdocs, and students.
The 'ICE Workshop for Advanced Materials' is an in-person science and training workshop combining invited lectures on current advancements and applications of cryogenic electron microscopy for materials sciences with lab demonstrations of current state-of-art cryogenic microscopy techniques.
This workshop covers each critical step of a successful cryogenic microscopy study, including specimen preparation, specimen transfer, cryogenic SEM/FIB, new cryo-EM stages, imaging, and spectroscopy at low temperatures. Vendor talks will provide information on the current state-of-the-art tools and workflows for Cryo-EM experiments. In-person lab demonstrations will be performed at CINTs Core Facility at SNL, allowing participants to have live interactions with the instructors and hands-on experience. We invite participants to bring a (3' x 4') poster of their work to share during the workshop. Additional pre-recorded lab demonstrations will be provided by experts from various institutions.
Invited world-leading materials scientists working with Cryo-EM speaking on Research, Methods, Challenges, and Lessons Learned

.

Afternoon In-lab demonstrations of Cryo-EM workflows and discussions.
Organizing Committee:

John Watt, Los Alamos National Laboratory (LANL), watt@lanl.gov
Katie Jungjohann, National Renewable Energy Laboratory (NREL), katherine.jungjohann@nrel.gov
Miaofang Chi, Oak Ridge National Laboratory (ORNL), chim@ornl.gov
Minghao Zhang, University of California, San Diego, miz016@eng.ucsd.edu
---
2022 CINT User Meeting
Sept. 20-22, 2022
CINT's Annual Meeting is an opportunity for our user community to join together with CINT scientists and leadership, share ideas and scientific results, and help to decide future directions for the CINT user program. Plenary Speaker and Symposia information here.
---
Next regular call for proposals
Our next regular call for proposals will open September 1, 2022. CINT expertise is available in these scientific thrust areas: In-situ Characterization and Nano-mechanics; Nanophotonics and Optical Nanomaterials; Soft, Biological and Composite Nanomaterials; Quantum Materials Systems.
NOTICE (March 4): Los Alamos National Laboratory returned to Normal Operations on May 2, 2022.
Los Alamos National Laboratory has lifted its indoor mask requirement for fully vaccinated individuals on-site. Individuals who are not fully vaccinated must wear a face mask while indoors. The term "fully vaccinated" means that it has been 14 days or more since an individual received their primary series of COVID-19 vaccines. For additional resources and information for subcontractors, guests, and visitors here.
Subcontractors, guests and visitors must show a vaccination card or photo image of the card (or proof of a negative COVID-19 test) before entering the LANL Badge Office. Visitors must also complete a Daily Self-Assessment and get a temperature check at the door./p>
NOTICE:
For updates, impacts and guidance regarding COVID-19 and Sandia's workforce, visit 
the Emergency Alerts site
.
We extend our best wishes to your families, friends, and colleagues, as the world confronts the continued challenges of the COVID-19 pandemic.